Today was one of those great & rare occasions that, as I was photographing a church, the door opened, the Deacon came out and said..."would you like to come and take pictures of the inside?"
Would I?! ...Indeed I would!
Deacon Tom Fournier graciously showed me and my friend, Simone, around the interior of the church and gave us an excellent history of the congregation.
What can I say? The stained glass windows in the sanctuary were simply amazing! The art nouveau fresco behind the altar was unlike any I've ever seen before. Beautifully stenciled religious icons were found under arches throughout the sanctuary. It was a very special space.
Deacon Fournier also explained some of the structural problems the church is currently experiencing. (Thankfully, Georgetown Baptist escaped any earthquake damage, unlike Washington Cathedral, and Hurricane Irene passed over without causing any real issues.) Unfortunately, the church has recently experienced some pretty serious water damage which has wrecked havoc on the historic church organ and parts of the sanctuary's ceiling. For the time being, the congregation has had to hold services in the downstairs area of the church.
It's going to take a lot of money to restore what needs restoring and in this economy preservation grants have all but dried up. My thoughts are with Georgetown Baptist, I hope they are able to raise the money they need to keep this architectural (and spiritual) treasure moving forward.
Detail of the Roman brick:
photo curtesy of Simone Jacobs:
photo curtesy of Simone Jacobs: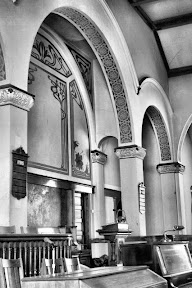 photo curtesy of Simone Jacobs:
photo curtesy of Simone Jacobs:
These glass gems are faceted, Deacon Fournier said when sunlight hits them just right they make rainbow prisms on the walls:
Original frame church on site, c1868:
Maddy McCoy
Fairfax County, Virginia
Slavery Inventory Database